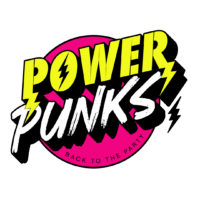 JB proudly presents the POWER PUNKS, Back to the Party-80´s show. A journey through the most important decade LIVE with the explosive POWER PUNKS performing 80´s HITS in a fast paced supershow lead by Acid Girl during 60-90 minutes in a EXCLUSIVE & ORIGINAL SING-A-LONG concept we call BACK TO THE PARTY. A unique entertainment concept for conscious companies and destinations.
You get a hit cavalcade of 80's HITS in a live mix and the guests get a FLASHBACK, with a BACK TO THE FUTURE feeling.
POWER PUNKS & ACID GIRL+ALL GUESTS SINGING with lyrics on media screens with that magic MTV energy that we remember with a big smile. 100% live performance, with EXTRA EVERYTHING!
Watch the movie trailer here on the website and enjoy-laugh with us, www.powerpunks.se
Designed for corporate parties, christmas shows and premium events.